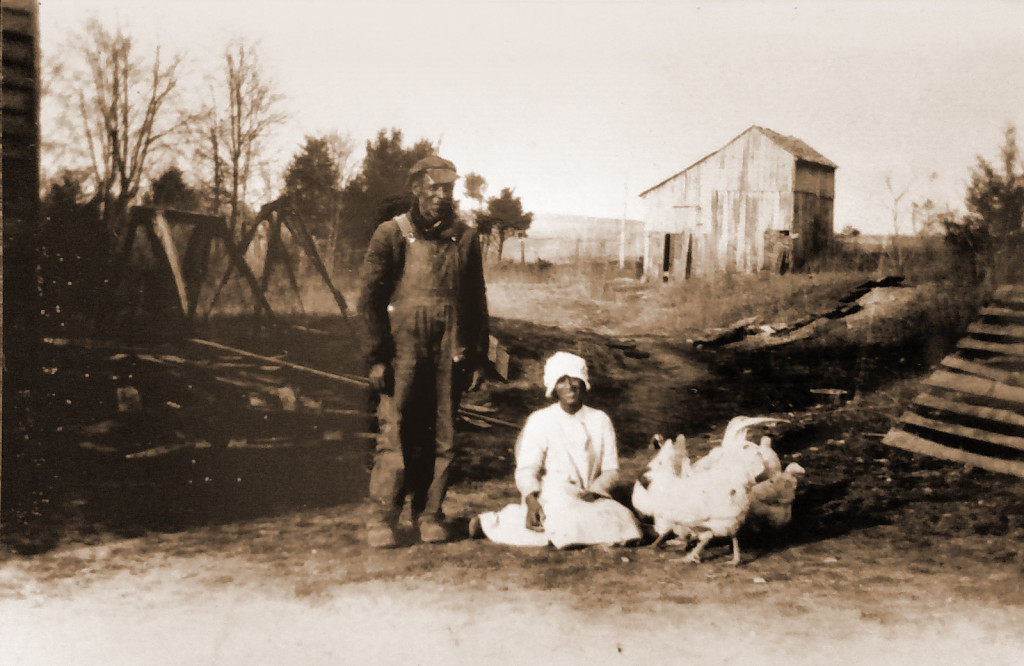 As soon as I pulled the old photo out of the box the other day, I remembered it and the day, decades before, that my aunt first showed it to me. We had been going through old family photos and she was telling me who each person was and how they were related to me. When we came to that photo, it surprised me, and I asked about their connection to the family.
"That's Uncle Hat and Aunt Callie."
I hesitated, wondering if those titles she used were just the familiar dismissive ones given to Black people in that era.
"No, that's Uncle Harrison Anthony and Aunt Callie Boren Anthony. They're family."
My father and my Aunt Dabba's grandparents, on their mother's side, were Byrd Follis Anthony and Allie Boren Anthony. So Uncle Hat and Aunt Callie were related to their mother on both sides of her family.
My family is from a small, rural county in Kentucky. The Dowells, Anthonys and Borens settled a corner of it called New Roe, which sits right on the Tennessee border. It is such a conservative area now, it was surprising to find these relatives in the family tree. They were cherished members of the family to have their photo saved for generations with all the other family photos.
After rediscovering the photo, I had to find out more about Uncle Hat and Aunt Callie. Going through census records from the 1800s, I found Harrison Anthony and his family in the 1870 census. He was six years old, having been born in 1864. His parents were David Anthony, Mulatto, and Adaline Anthony, Black, and he had four siblings. Mulatto was the archaic, slave culture term for biracial. They were listed in the census very near to Byrd and Allie Anthony's household, so they were probably close neighbors. I couldn't find Aunt Callie and her family listed in the census.
I searched through the rest of the New Roe 1870 census records and later censuses to see if there were other Black families. There were many other families in the area listed as Mulatto or Black or a combination. They seemed to all be concentrated in that part of the county. I would never have expected there to have been such racial diversity in that area in the late 1800s.
In fact, it was amazing, for the area had been patrolled by post-war Confederate Regulators, vigilantes who robbed and murdered on both sides of the Kentucky-Tennessee border. The Regulators killed my great-grandfather Martin Van Buren Dowell there in the early 1880s for some reason I could never discover. It was possibly because he had served in the Union Army. They shot him through a window while he was inside his house, then dragged his body out and threw it in the pig pen. I found court records showing the murderers were arraigned, but they were never prosecuted and the case was dropped.
The smiling faces of Uncle Hat and Aunt Callie indicate that they had a happy life together. He was a carpenter or builder of some sort, judging by his work clothes and the variety of lumber in the background of the photo. I found Uncle Hat's death record; he died in 1935 at the age of 70 and Aunt Callie was listed as his wife, so they had many years together.
Aunt Dabba was born in 1913 and she told stories about what a close community there was in New Roe when she was growing up. Even though there was a White school and a Black school, she said each one would do a play every month and invite the other school and the community. Neighbors would bring lanterns to light the play. If the weather was warm, the play was outside and they brought quilts to spread on the ground to sit on.
I have discovered many interesting stories in my family's past; this was one of the most intriguing. I would love to be able to talk to Uncle Hat and Aunt Callie and my great-grandparents to find out how that little pocket of diversity thrived in such a dangerous area and in a time of such cultural strife. I am proud of them all for living their lives together in harmony.